Diversity
The concept of diversity is not something new to our Firm. For over 25 years Firm ownership, and leadership duties, have been shared by men and women. Our attorneys are diverse in background, capabilities and life experiences.  We take pride on being inclusive, with equal opportunity for all employees to succeed, with a strong focus on work life balance.
Our firm is audited annually by The Krizner Group, a nationally recognized employment law practice, to continually ensure diversity and employment law compliance.
Each month we feature one of our attorneys below.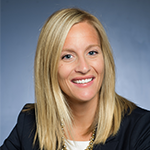 View Profile
Caitlin handles defense work in the areas of workers' compensation defense and reimbursement dispute litigation.  Caitlin  handles trial practice, appellate practice, and administrative hearings before the Florida First DCA, the Judge of Compensation Claims and the Florida Department of Administrative Hearings.  She has represented state agencies, national insurance companies, PEOs, TPAs, an...
---